Trump Cabinet Moving Along
Hang on for a minute...we're trying to find some more stories you might like.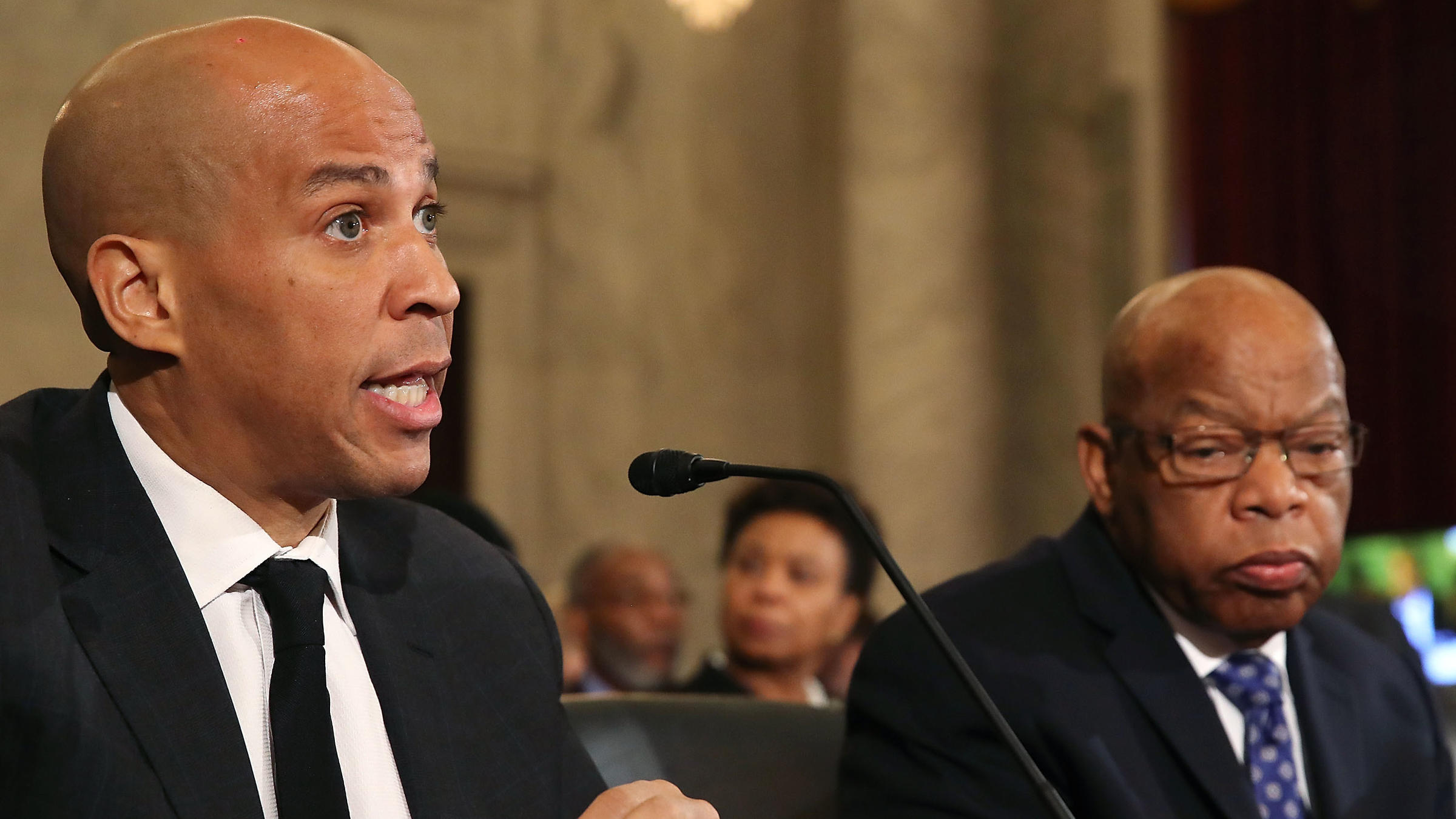 Senate Confirmation Hearing for Attorney General Jeff Sessions (R-AL), while Sessions is questioned by New Jersey Senator Cory Booker (D-NJ), and Georgia Representative John Lewis (D-GA).
WASHINGTON, D.C. (Capital District)-President Elect Donald J. Trump's (R-NY), Cabinet is coming along with a slow and steady pace.  More congressional hearings to approve the candidates will take place this week before Friday, January 20th, 2017, Inauguration Day, where Trump and his Cabinet will be sworn in to protect the United States.   In recent days, many scheduled performers have withdrawn from playing at Trump's inauguration due to their' political views.  Performers that will play included the Talladega Marching Tornadoes, from the University of Alabama Talladega, The New York Rockettes, The Mormon Tabernacle Choir from Salt Lake City, UT, Jackie Evancho (single performer), and on Thursday, January 19th, 2017, Country Star Toby Keith, 3 Doors Down, and Lee Greenwood.  Also in the news, Georgia Representative and civil rights activist John Lewis (D-GA), commented on Trump's presidency calling it, "illegitimate," while Trump fired back on Twitter telling him to "Clean up his [Atlanta] district."  The current picks for the Trump Cabinet are: (Congressionally Approved, Green, Hearing Scheduled, Red)
Jeff Sessions (R-AL)
Senator from Alabama
Attorney General 
John F. Kelley (I-MA)
4 Star Marine General
Homeland Security Adviser 
Rex Tillerson (R-TX)
Former Exxon-Mobil CEO
Secretary of State
Elaine Chao (R-KY)
Former U.S. Labor Secretary
Secretary of Transportation
James Mattis (I-WA)
4-Star General
Secretary of Defense
Ben Carson (R-MI)
2016 Presidential Candidate, Neurosurgeon
Secretary of Housing and Urban Development
Mike Pompeo (R-KS)
Congressman from Kansas
C.I.A. Director
Ryan Zinke (R-MT)
Representative from Montana
Secretary of the Interior
Betsy DeVos (R-MI)
Businesswoman
Secretary of Education
Nikki Haley (R-SC)
Governor of South Carolina
Ambassador to the United Nations
Tom Price (R-GA)
Representative from Georgia
Secretary of Health and Human Services
Scott Pruitt (R-OK)
Attorney General of Oklahoma
E.P.A. Administrator 
Wilbur Ross (R-NY)
Investor, Banker
Secretary of Commerce
Rick Perry (R-TX)
Former Governor of Texas
Secretary of Energy
Dan Coats (R-IN)
Former Senator from Indiana
Director of National Intelligence
Robert Lighthizer (R-OH)
Former Deputy Trade Representative
U.S. Trade Representative
Linda McMahon (R-CT)
Candidate for Senator from Connecticut
Secretary of the Small Business Administration
Steven Mnuchin (R-NY)
Financier
Secretary of the Treasury
There are more cabinet level appointments not listed, but congressional hearings haven't been scheduled for those candidates yet.  FMS Press will continue to report on the new Cabinet and Administration.
Works Cited: